---
A Perfect Place for Beauty & Hair Treatment
Vishu Ladies beauty parlour
Located at B C Road in Bantwal-D.K, is one among the foremost prominent beauty parlours in Karnataka. it had been founded in the year 2015 by M/s Vishu Kundar. It boasts of getting a number of the foremost experienced and professionally qualified beauticians in Karnataka.
---
Exclusively for Ladies
Vishu Ladies Beauty Parlour, offers trendy haircuts and color services, complete skin care solutions and bridal packages, at affordable rates. Equipped with the knowledge on a wide variety of professional hair & skin care products, our well trained professional stylists provide friendly service. Conveniently close, we're located right in your neighbourhood!

Bridal Makeover
Your fairy tale wedding is now a reality! we helps transform brides-to-be into beautiful princesses on their special day.
We also offers outdoor services like wedding make up, wedding hairstyles and saree draping can be availed at any venue on request with in area limit.
Our Services
To appear as a beautiful and flawless bride is the daydream of every girl. And if you are a bride who is about to tie the knot, then you need to book a makeup artist who is an advantage and can offer you a wide range of facilities and service for all your wedding functions. So if you are searching for one such makeup artist who can help you look completely perfect from head to toe for all your wedding celebrations then we at Vishu Beauty parlour offer you wide range of bridal services. Our packages which you can customise according to your preferences. read more...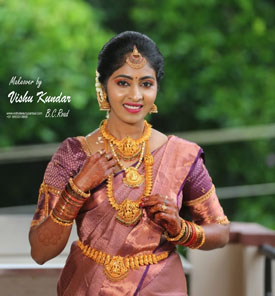 From prom to weddings, there are many life events that require a fancy hairstyle.
Hair styling is important, it's often secondary, because even the messiest hairstyles need a proper base- a quality cut that has its shape and texture. All you need to do it keep your scalp clean, eat healthy and protect your hair from the sun, and you can have shiny, glossy hair for every occasion.
Today's hairstyles for special occasions are no longer restricted to polished, Hair styles, just like anything in fashion, are constantly evolving and changing. read more...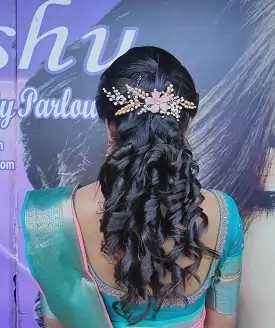 Nail art is a creative way to paint, decorate, enhance, and embellish nails. It is a type of artwork that can be done on fingernails and toenails, usually after manicures or pedicures. Manicures and pedicures are beauty treatments that trim, shape, and polish the nails.
If you're looking for a trendy nail salon, which can offer you nail art designs that are everything from pretty and basic to quirky vishu parlour is your best bet. Offering all nail services - manicures, pedicures, gel nails, nail art - this salon in B C Road is an ideal spot for millennials and girls looking to get their hands to look flawless..read more...
For the deep-rooted cultural past and traditional significance it holds for a bride, Mehndi is an imperative and an unskippable aspect of her wedding look. Getting their hands laden with beautiful and mesmerizing designs and flowy patterns is probably every to-be-brides desire. Well, aiding you with latest mehndi designs for hands and feet is ours!
We have team fascinated with indian and arabic style Mehndi designs. read more...
From redness to a dry skin, many people struggle to keep their skin is looking and feeling great. The good news is that professional facials can help to improve your skin.
But finding the right facial that works for you and your skin type can be a challenging endeavor. We provide skin care solutions along with a facial Treatment which improves a glow on your face. Facials type with the quality is Fruit Facial, Gold Facial, Diamond Facial etc.read more...
Nail care is just as important part of beauty regime as your skin and hair care.Manicure refers to the care of the hands which involves cleansing, application of nail polish. Pedicure refers to the care of feet involving cleansing, application of nail polish.
This includes skincare, nail care, and artificial nail enhancements as per preferences.
Pedicure, its so relaxing and it makes your tired,aching feet stop hurting and good for you to care for your feet. read more...
---
*Location 1*
#3. Ground floor
S.G.S.Y Building,
Near B C Road Police Station & Civil Court.
Opposite to Bus Stand
B.C.Road - Bantwal , D.K
Call: 9663910869
*****
*Location 2*
Ground floor
Ganesh Building,
Behind Sysnicate Bank
Near National
Insurance office
B.C.Road - Bantwal , D.K
Call: 9663910869
*****
---
You may search for best parlour near me right,we are top ranked parlour in B C Road Bantwal
Subscribe for get notification on latest Blog,Photo & Offers
---
All Rights Reserved. ©Vishu Beauty Parlour B.C Road. All trademarks and Logos are registered marks or trademarks of their respective companies. Website by Weltraum Software Private Limited
#3dmakeup #9663910869 #actress #allesecht #angeleyes #antiaging #art #arteventos #attarctiveparlour #attitudelook #azurecoast #babyshower #backlessblouse #balayage #bangalore #bangaloremakeupartist #Bantwal #barber #BareMinerals #base #basemakeup #bblogger #bbloggers #BCRoad #beach #beachlife #beachvibes #beautiful #beautifulgirls #beautifulnature #beauty #beautyaddict #beautyandthebeast #beautybasics #Beautyblender #beautyblog #beautyblogger #beautybloggerlife #beautybloggers #Beautybox #beautycare #beautycommunity #beautyful #Beautyfull #beautygirl #beautygram #beautyguru #Beautyhair #beautyinfluencer #beautyjunkie #Beautylaunchpad #beautylover #beautymakeup #beautymood #beautyofnature #beautyoftulunads #Beautyphotography #Beautyproduct #beautyproducts #beautyqueen #Beautys #beautysalon #Beautyshoot #Beautyskin #beautytips #beautytraining #beautyvishu #Beautyvlogger #bestparlour #bhfyp #bigcurls #black #bleach #Blogger #Blogginggals #Blogpost #blonde #blondiundbrauni #blouses #blowouts #blueeyes #blueeyeshadow #blushmakeup #Bobbibrown #bodyspa #bomdia #bonjour #braid #brand #brazil #braziliankeratin #brazilianprotein #bridal #bridalblouse #BridalDressing #bridalflowers #bridalideas #bridaljewelry #BridalMakeup #bridalmakeupartist #bridals #bridalwear #bride #bride#fun#smile #brideday #bridelook #bridelstyle#bridehairstyle #brides #brides#weddings #bridesessentials #bridesindia #bridesof_india #bridesofbangalore #bridesofindia #bridesofinstagram #bridesofkerala #bridesofmangalore #bridesofvishu #bridetobe #brighteyes #browartist #browgoals #browlamination #browneyes #brows #browshaping #browsonfleek #browsonpoint #brunette #bueaty #bueatyparlour #buongiorno #candid #canon #canonindia_official #canonphotography #casamento #casualmakeup #cellumination #chennai #chennaibrides #chic #christianbride #Clarins #cleanbeauty #cleansing #cleanup #clearskin #Clinique #closeup #clothes #collage #collagebeauty #collagebueaty #collagen #color #competition #concealer #contest #contestalert #contestentry #contests #contour #cool #cooldad #coolhair #cosmetic #cosmetics #cosmetictattoo #cosmetologist #couplediaries #couplegoals #couplepotraits #couples #Crueltyfree #curls #curlsfordays #curlsforthegirls #curlsonfleek #curlss #curly #curlygirls #curlygirlsrock #curlyhair #curlyhairdontcare #curlyhead #curlynatural #cute #d #dadtobe #damage #darkeyes #Deals #Dermablend #Dermalogica #design #dirtybootsandmessyhair #dream #dreamindianweddingblog #dress #dressing #dressyourface #Elizabetharden #engaged #engagement #engagementphotos #engagementring #enjoyinglife #enjoylife #eosr #Esteelauder #esthetician #eventilaconceptshoot #eventos #events #explorepage #extensions #eye #eyeball #eyebrow #eyebrowgame #eyebrowgamestrong #eyebrowgoals #eyebrown #eyebrows #eyebrowsdid #eyebrowsdone #eyebrowshaping #eyebrowsonfleek #eyebrowsonpoint #eyebrowtattoo #eyecream #eyelash #eyelashes #eyelashextensions #eyeliner #eyemakeup #eyes #eyeshadow #eyesmakeup #eyesshadow #face #facelook #facemodel #facepowder #facial #facialmakeup #fallbeauty #familyfunction #fashion #Fashionblogger #fashiondiaries #fashiongram #fashionjewellery #fashionpost #fearlessphotographers #fitness #flowers #followforfollowback #followme #foryou #foryoupage #foundation #fragrance #fun #function #GaneshBuilding #gel #gelnails #gelpolish #Gift #Giftideas #girl #girls #girlsparlour #giveaway #giveaways #glam #glamorous #glamour #glitter #global #globalcolouring #gloss #glossier #glow #glowingskin #godox #godoxad200photography #godoxlighting #goldjewelry #good #goodmorning #goodparlour #gorgeous #greenbeauty #greeneyes #groom #groomtobe #hair #hairaccessories #hairartist #hairbotox #haircare #haircolor #haircolour #haircut #haircutt #hairdo #hairdresser #hairfashion #hairgoals #hairideas #hairofinstagram #hairoftheday #hairsalon #hairspa #hairstraightening #hairstyle #hairstyler #hairstyles #hairstylesforgirls #hairstyling #hairstylist #hairtransformation #hairtreatment #haldi #haldiceremony #handwoven #happiness #happy #happyday #happydays #happymom #happymoments #happysunday #health #healthyskin #heritageweaves #highlight #highlights #hindubride #huda #hudabeauty #hungary #husbandgoals #hyderabad #ig #igmakeup #ilovemakeup #india #indiaclicks #indian #indianbride #indianjewellery #indianjewelry #indianmarriage #indianphotography #indianwedding #indiaphotography #inspirationalmarriageideas #insta #instabeauty #instablogger #instabrows #instaeyebrows #instaeyes #instaface #instafashion #instagood #instahair #instahun #instalike #instamakeup #instanails #instastyle #instawedding #inst?sund?y #intaskincare #italien #jeans #jewelry #k #Kalladka #kanchipuram #kanchipuramsaree #kanjeevaram #kanjivaramsaree #karnataka #kerala #keralabrides #keralafashion #keralawedding #keralaweddingphotography #kerashine #kerasmooth #keratin #keratintreatment #kharkiv #kharkov #Konaje #kundar #ladiesonly #ladiesparlour #lady #Lancome #langehaare #lash #lashaddict #lashart #lashartist #lashes #lashesfordays #lasheslasheslashes #lashextensions #lashlife #lashlift #lashlove #lashmaker #lashpro #lashstylist #lashsuplies #Lauragellerbeauty #levander #levendula #life #lifestyle #lifestyleblogger #likes #line #lips #lipstick #live #locken #longhair #look #lookatthatface #lookbook #lookoftheday #lookslikefilm #loosecurls #Loreal #love #lovely_couple_shootout #lovememories #loveyourself #luxury #luxurylife #l?tsgettog?th?r #Mac #maccosmetics #macro #macrooftheday #macrophotography #macroshot #makeover #makeoverbyvishu #makeup #makeupaccounts #makeupacting #makeupaddict #Makeupart #makeupartist #Makeupartistsworldwide #Makeupartistworldwide #makeupbeauty #makeupblog #makeupblogger #makeupblood #makeupbrands #makeupbrush #makeupbyme #makeupchat #makeupclient #makeupclip #makeupclips #makeupcollab #makeupcollection #makeupcolor #makeupcream #makeupdolls #makeupdone #makeupevent #Makeupfanatic #makeupforever #makeupfortonight #Makeupgeek #Makeupgirl #makeupgiveaways #Makeupgoals #makeupgrain #makeupic #makeupideas #makeupigtv #makeupjunkie #makeuplife #makeuplook #makeuplooks #Makeuplove #makeuplover #Makeuplovers #makeupmafia #makeupmascara #makeupmodel #Makeupmurah #Makeupobsessed #makeupobsession #makeupofig #makeupofinstagram #makeupoftheday #makeupofthenight #makeupoftoday #makeuponabudget #makeuponfleek #makeuponline #makeuponly #makeuponpoint #makeuponthego #makeuppaint #makeupparty #makeuppassion #makeupphoto #makeuppictures #makeupportfolio #makeuppost #makeuppowder #makeuppro #makeupproduct #Makeupreview #makeupshop #makeupshortvideos #makeupstage #makeupsteps #makeuptalk #makeupteacher #makeupteam #makeuptexture #makeuptherapy #makeupthings #makeuptime #makeuptips #makeuptools #makeuptraining #makeuptransformation #makeuptrial #makeuptricks #makeuptutorial #makeuptutorials #makeuptype #makeupvanity #makeupvibes #Makeupvideo #makeupvideos #makeupwedding #makeupworld #maledives #malluwedding #mangalore #Mangalyaflorals #Mangalyaweddingflowers #Mani #manicure #mascara #mask #maternitymemories #maternityphotography #maternityshoot #me #mehandiartist #mehendimakeup #melanin #Melkar #microblading #microbladingeyebrows #micropigmentation #microshading #model #modeling #modelposes #modelshoot #modernsalon #moments #momtobe #mood #motd #mua #muaindia #music #myeye #mylook #mylooktoday #mywed #nail #nailaddict #nailart #nailartaddict #nailartist #nailcare #naildesign #nailpolish #nailporn #nailpromote #nails #nails2inspire #nailsart #nailsdone #nailslove #nailsofinstagram #nailsoftheday #nailsoftheweek #nailsonpoint #nailspolish #nailstagram #nailswag #natur #natural #naturalbeauty #naturalbeautybasic #naturalbeautyblogger #naturalbeautybrands #naturalbeautycare #naturalbeautychallenge #naturalbeautyenhanced #naturalbeautyisthebest #naturalbeautylife #naturalbeautylovers #naturalbeautyoftheweek #naturalbeautyproduct #naturalbeautyproducts #naturalbeautyshoutouts #naturalbeautysupply #naturalbeautytips #naturalbeautyvibes #naturalbeautywithanaturalbooty #naturalcurls #naturaleyebrows #naturalhair #naturalhaircommunity #naturalhairdaily #naturalista #naturalskincare #nature #naturelover #naturelovers #naturephoto #naturephotography #nearparlour #neartome #new #newface #No1parlour #noiva #notd #oil #ombre #ombrebrows #ootd #ootdindo #ootdmagazine #ootdshare #organic #organicbeauty #organicskincare #osadnikgajowka #outfit #outfitoftheday #outfitpost #outfits #palettes #panorama #paradise_sights #parlour #parlourvishu #pedicure #perfectbrows #perfectcurls #perfecteyebrows #permanentmakeup #personalcare #phibrows #photographer #photography #photographywoda #photooftheday #photoshoot #photraits #phptoshoot #piercings #pink #pmu #pmuartist #pmubrows #polish #polishing #poojadai #poojadaialangaram #popxo.wedding #portrait #portraits_shoots #pose #postweddingshoot #powder #pregnancy #pregnancyjourney #pregnancymemories #pregnancyphotoshoot #pretty #prettyeyes #prettyface #prewedding #preweddingoutdoor #preweddingshoot #prilaga #primers #product #ProfessionalTraining #promakeup #prommakeup #pune #puneinstagrammers #punekar #pupil #puresilksarees #purple #Puttur #rebonding #receptionflorals #Reels #reelsinstagram #reina #review #Rimmel #royal #S.G.S.Y #salon #salonapple #sangeethmakeup #sangeethphotoshoot #saopaulo #saree #sareelove #sarees #sareeswearing #savethedate #school #schoolbeauty #selfcare #selfcareday #selfie #selflove #semipermanentmakeup #serum #shaadisaga #shaadisquad#shaadisaga #shellac #shinebond #shoot #signaturesarees #sikkthreadbangles #silksarees #silksofindia #simplemakeover #simplemakeup #skin #skincare #skincareaddict #skincareaman #skincarejunkie #skincarelover #skincareproducts #skincareroutine #skincaretips #skinfood #skinrejuvenation #skintreatment #skintreatments #slave2beauty #slovakia #Smallyoutubearmy #smile #smilemore #smile? #smokeyes #smoothening #sobrancelhas #sobrancelhasperfeitas #sonntag #southindiajewels #southindianbridalfashion #southindianbridals #southindianbride #southindianbrides #southindiancouple #southindianjewellery #southindianwedding #southindianweddings #southsilk #spa #spring #straightening #straighthair #Style #styles #stylish #stylist #summer #summermakeup #sumskaya #sunday #sunshine #Surathkal #sweepstakes #tamilbride #tattoo #tattoos #tbt #televisionmakeup #telugubride #templejewellery #templejewelry #templewedding #Thegirlgang #thoseeyebrows #thoughts #time #todaysoutfit #traditional #traditionalwear #traditionalwedding #training #travel #travelers #treatment #trends #tulunadu #tunesien #Udupi #Ullala #unhas #Uppinangady #v #view #vimannagarfoodies #vimannagarpune #viral #visage #Vishu #vishubeauty #vishubeautyparlour #vishubeautyparlourbcroad #vishucontest #vishudressing #vishukundar #vishuladies #vishumakeover #vishumakeup #vishuparlour #vishusweepstakes #vishuwin #vision #Vittla #volumelashes #wakeupandmakeup #waxing #wedd #wedding #wedding_delights #weddingbells #weddingblog #weddingblouses #weddingday #weddingdecor #weddingdesign #weddingdress #weddingessentials #weddingessentials.in #weddingfashion #weddinggoals #weddingideas #weddinginspiration #weddinginspo #weddingjewellery #weddingjewels #weddinglooksbridemakeup #weddingnet #weddingphotographer #weddingphotography #weddingphotoshoot #weddingplanner #weddingplz #weddings #weddingsaree #weddingsarees #weddingshoot #weddingsutra #weddingsutra#modelmqkeup #weddingtrend #weddingvenis #weddingwireindia #weddingz.in #wedmegood #wedmegoodsouth #wellness #whatiwore #whatiworetoday #white #whitebridals #win #winitwednesday #wiw #woman #work #worldphotographyday #wow #wowparlour #vishubeautyparlour.com #YouTuber #zo_wed @3dmakeup @9663910869 @actress @allesecht @angeleyes @antiaging @art @arteventos @attarctiveparlour @attitudelook @azurecoast @babyshower @backlessblouse @balayage @bangalore @bangaloremakeupartist @Bantwal @barber @BareMinerals @base @basemakeup @bblogger @bbloggers @BCRoad @beach @beachlife @beachvibes @beautiful @beautifulgirls @beautifulnature @beauty @beautyaddict @beautyandthebeast @beautybasics @Beautyblender @beautyblog @beautyblogger @beautybloggerlife @beautybloggers @Beautybox @beautycare @beautycommunity @beautyful @Beautyfull @beautygirl @beautygram @beautyguru @Beautyhair @beautyinfluencer @beautyjunkie @Beautylaunchpad @beautylover @beautymakeup @beautymood @beautyofnature @beautyoftulunads @Beautyphotography @Beautyproduct @beautyproducts @beautyqueen @Beautys @beautysalon @Beautyshoot @Beautyskin @beautytips @beautytraining @beautyvishu @Beautyvlogger @bestparlour @bhfyp @bigcurls @black @bleach @Blogger @Blogginggals @Blogpost @blonde @blondiundbrauni @blouses @blowouts @blueeyes @blueeyeshadow @blushmakeup @Bobbibrown @bodyspa @bomdia @bonjour @braid @brand @brazil @braziliankeratin @brazilianprotein @bridal @bridalblouse @BridalDressing @bridalflowers @bridalideas @bridaljewelry @BridalMakeup @bridalmakeupartist @bridals @bridalwear @bride @bridefunsmile @brideday @bridelook @bridelstylebridehairstyle @brides @bridesweddings @bridesessentials @bridesindia @bridesof_india @bridesofbangalore @bridesofindia @bridesofinstagram @bridesofkerala @bridesofmangalore @bridesofvishu @bridetobe @brighteyes @browartist @browgoals @browlamination @browneyes @brows @browshaping @browsonfleek @browsonpoint @brunette @bueaty @bueatyparlour @buongiorno @candid @canon @canonindia_official @canonphotography @casamento @casualmakeup @cellumination @chennai @chennaibrides @chic @christianbride @Clarins @cleanbeauty @cleansing @cleanup @clearskin @Clinique @closeup @clothes @collage @collagebeauty @collagebueaty @collagen @color @competition @concealer @contest @contestalert @contestentry @contests @contour @cool @cooldad @coolhair @cosmetic @cosmetics @cosmetictattoo @cosmetologist @couplediaries @couplegoals @couplepotraits @couples @Crueltyfree @curls @curlsfordays @curlsforthegirls @curlsonfleek @curlss @curly @curlygirls @curlygirlsrock @curlyhair @curlyhairdontcare @curlyhead @curlynatural @cute @d @dadtobe @damage @darkeyes @Deals @Dermablend @Dermalogica @design @dirtybootsandmessyhair @dream @dreamindianweddingblog @dress @dressing @dressyourface @Elizabetharden @engaged @engagement @engagementphotos @engagementring @enjoyinglife @enjoylife @eosr @Esteelauder @esthetician @eventilaconceptshoot @eventos @events @explorepage @extensions @eye @eyeball @eyebrow @eyebrowgame @eyebrowgamestrong @eyebrowgoals @eyebrown @eyebrows @eyebrowsdid @eyebrowsdone @eyebrowshaping @eyebrowsonfleek @eyebrowsonpoint @eyebrowtattoo @eyecream @eyelash @eyelashes @eyelashextensions @eyeliner @eyemakeup @eyes @eyeshadow @eyesmakeup @eyesshadow @face @facelook @facemodel @facepowder @facial @facialmakeup @fallbeauty @familyfunction @fashion @Fashionblogger @fashiondiaries @fashiongram @fashionjewellery @fashionpost @fearlessphotographers @fitness @flowers @followforfollowback @followme @foryou @foryoupage @foundation @fragrance @fun @function @GaneshBuilding @gel @gelnails @gelpolish @Gift @Giftideas @girl @girls @girlsparlour @giveaway @giveaways @glam @glamorous @glamour @glitter @global @globalcolouring @gloss @glossier @glow @glowingskin @godox @godoxad200photography @godoxlighting @goldjewelry @good @goodmorning @goodparlour @gorgeous @greenbeauty @greeneyes @groom @groomtobe @hair @hairaccessories @hairartist @hairbotox @haircare @haircolor @haircolour @haircut @haircutt @hairdo @hairdresser @hairfashion @hairgoals @hairideas @hairofinstagram @hairoftheday @hairsalon @hairspa @hairstraightening @hairstyle @hairstyler @hairstyles @hairstylesforgirls @hairstyling @hairstylist @hairtransformation @hairtreatment @haldi @haldiceremony @handwoven @happiness @happy @happyday @happydays @happymom @happymoments @happysunday @health @healthyskin @heritageweaves @highlight @highlights @hindubride @huda @hudabeauty @hungary @husbandgoals @hyderabad @ig @igmakeup @ilovemakeup @india @indiaclicks @indian @indianbride @indianjewellery @indianjewelry @indianmarriage @indianphotography @indianwedding @indiaphotography @inspirationalmarriageideas @insta @instabeauty @instablogger @instabrows @instaeyebrows @instaeyes @instaface @instafashion @instagood @instahair @instahun @instalike @instamakeup @instanails @instastyle @instawedding @inst?sund?y @intaskincare @italien @jeans @jewelry @k @Kalladka @kanchipuram @kanchipuramsaree @kanjeevaram @kanjivaramsaree @karnataka @kerala @keralabrides @keralafashion @keralawedding @keralaweddingphotography @kerashine @kerasmooth @keratin @keratintreatment @kharkiv @kharkov @Konaje @kundar @ladiesonly @ladiesparlour @lady @Lancome @langehaare @lash @lashaddict @lashart @lashartist @lashes @lashesfordays @lasheslasheslashes @lashextensions @lashlife @lashlift @lashlove @lashmaker @lashpro @lashstylist @lashsuplies @Lauragellerbeauty @levander @levendula @life @lifestyle @lifestyleblogger @likes @line @lips @lipstick @live @locken @longhair @look @lookatthatface @lookbook @lookoftheday @lookslikefilm @loosecurls @Loreal @love @lovely_couple_shootout @lovememories @loveyourself @luxury @luxurylife @l?tsgettog?th?r @Mac @maccosmetics @macro @macrooftheday @macrophotography @macroshot @makeover @makeoverbyvishu @makeup @makeupaccounts @makeupacting @makeupaddict @Makeupart @makeupartist @Makeupartistsworldwide @Makeupartistworldwide @makeupbeauty @makeupblog @makeupblogger @makeupblood @makeupbrands @makeupbrush @makeupbyme @makeupchat @makeupclient @makeupclip @makeupclips @makeupcollab @makeupcollection @makeupcolor @makeupcream @makeupdolls @makeupdone @makeupevent @Makeupfanatic @makeupforever @makeupfortonight @Makeupgeek @Makeupgirl @makeupgiveaways @Makeupgoals @makeupgrain @makeupic @makeupideas @makeupigtv @makeupjunkie @makeuplife @makeuplook @makeuplooks @Makeuplove @makeuplover @Makeuplovers @makeupmafia @makeupmascara @makeupmodel @Makeupmurah @Makeupobsessed @makeupobsession @makeupofig @makeupofinstagram @makeupoftheday @makeupofthenight @makeupoftoday @makeuponabudget @makeuponfleek @makeuponline @makeuponly @makeuponpoint @makeuponthego @makeuppaint @makeupparty @makeuppassion @makeupphoto @makeuppictures @makeupportfolio @makeuppost @makeuppowder @makeuppro @makeupproduct @Makeupreview @makeupshop @makeupshortvideos @makeupstage @makeupsteps @makeuptalk @makeupteacher @makeupteam @makeuptexture @makeuptherapy @makeupthings @makeuptime @makeuptips @makeuptools @makeuptraining @makeuptransformation @makeuptrial @makeuptricks @makeuptutorial @makeuptutorials @makeuptype @makeupvanity @makeupvibes @Makeupvideo @makeupvideos @makeupwedding @makeupworld @maledives @malluwedding @mangalore @Mangalyaflorals @Mangalyaweddingflowers @Mani @manicure @mascara @mask @maternitymemories @maternityphotography @maternityshoot @me @mehandiartist @mehendimakeup @melanin @Melkar @microblading @microbladingeyebrows @micropigmentation @microshading @model @modeling @modelposes @modelshoot @modernsalon @moments @momtobe @mood @motd @mua @muaindia @music @myeye @mylook @mylooktoday @mywed @nail @nailaddict @nailart @nailartaddict @nailartist @nailcare @naildesign @nailpolish @nailporn @nailpromote @nails @nails2inspire @nailsart @nailsdone @nailslove @nailsofinstagram @nailsoftheday @nailsoftheweek @nailsonpoint @nailspolish @nailstagram @nailswag @natur @natural @naturalbeauty @naturalbeautybasic @naturalbeautyblogger @naturalbeautybrands @naturalbeautycare @naturalbeautychallenge @naturalbeautyenhanced @naturalbeautyisthebest @naturalbeautylife @naturalbeautylovers @naturalbeautyoftheweek @naturalbeautyproduct @naturalbeautyproducts @naturalbeautyshoutouts @naturalbeautysupply @naturalbeautytips @naturalbeautyvibes @naturalbeautywithanaturalbooty @naturalcurls @naturaleyebrows @naturalhair @naturalhaircommunity @naturalhairdaily @naturalista @naturalskincare @nature @naturelover @naturelovers @naturephoto @naturephotography @nearparlour @neartome @new @newface @No1parlour @noiva @notd @oil @ombre @ombrebrows @ootd @ootdindo @ootdmagazine @ootdshare @organic @organicbeauty @organicskincare @osadnikgajowka @outfit @outfitoftheday @outfitpost @outfits @palettes @panorama @paradise_sights @parlour @parlourvishu @pedicure @perfectbrows @perfectcurls @perfecteyebrows @permanentmakeup @personalcare @phibrows @photographer @photography @photographywoda @photooftheday @photoshoot @photraits @phptoshoot @piercings @pink @pmu @pmuartist @pmubrows @polish @polishing @poojadai @poojadaialangaram @popxo.wedding @portrait @portraits_shoots @pose @postweddingshoot @powder @pregnancy @pregnancyjourney @pregnancymemories @pregnancyphotoshoot @pretty @prettyeyes @prettyface @prewedding @preweddingoutdoor @preweddingshoot @prilaga @primers @product @ProfessionalTraining @promakeup @prommakeup @pune @puneinstagrammers @punekar @pupil @puresilksarees @purple @Puttur @rebonding @receptionflorals @Reels @reelsinstagram @reina @review @Rimmel @royal @S.G.S.Y @salon @salonapple @sangeethmakeup @sangeethphotoshoot @saopaulo @saree @sareelove @sarees @sareeswearing @savethedate @school @schoolbeauty @selfcare @selfcareday @selfie @selflove @semipermanentmakeup @serum @shaadisaga @shaadisquadshaadisaga @shellac @shinebond @shoot @signaturesarees @sikkthreadbangles @silksarees @silksofindia @simplemakeover @simplemakeup @skin @skincare @skincareaddict @skincareaman @skincarejunkie @skincarelover @skincareproducts @skincareroutine @skincaretips @skinfood @skinrejuvenation @skintreatment @skintreatments @slave2beauty @slovakia @Smallyoutubearmy @smile @smilemore @smile? @smokeyes @smoothening @sobrancelhas @sobrancelhasperfeitas @sonntag @southindiajewels @southindianbridalfashion @southindianbridals @southindianbride @southindianbrides @southindiancouple @southindianjewellery @southindianwedding @southindianweddings @southsilk @spa @spring @straightening @straighthair @Style @styles @stylish @stylist @summer @summermakeup @sumskaya @sunday @sunshine @Surathkal @sweepstakes @tamilbride @tattoo @tattoos @tbt @televisionmakeup @telugubride @templejewellery @templejewelry @templewedding @Thegirlgang @thoseeyebrows @thoughts @time @todaysoutfit @traditional @traditionalwear @traditionalwedding @training @travel @travelers @treatment @trends @tulunadu @tunesien @Udupi @Ullala @unhas @Uppinangady @v @view @vimannagarfoodies @vimannagarpune @viral @visage @Vishu @vishubeauty @vishubeautyparlour @vishubeautyparlourbcroad @vishucontest @vishudressing @vishukundar @vishuladies @vishumakeover @vishumakeup @vishuparlour @vishusweepstakes @vishuwin @vision @Vittla @volumelashes @wakeupandmakeup @waxing @wedd @wedding @wedding_delights @weddingbells @weddingblog @weddingblouses @weddingday @weddingdecor @weddingdesign @weddingdress @weddingessentials @weddingessentials.in @weddingfashion @weddinggoals @weddingideas @weddinginspiration @weddinginspo @weddingjewellery @weddingjewels @weddinglooksbridemakeup @weddingnet @weddingphotographer @weddingphotography @weddingphotoshoot @weddingplanner @weddingplz @weddings @weddingsaree @weddingsarees @weddingshoot @weddingsutra @weddingsutramodelmqkeup @weddingtrend @weddingvenis @weddingwireindia @weddingz.in @wedmegood @wedmegoodsouth @wellness @whatiwore @whatiworetoday @white @whitebridals @win @winitwednesday @wiw @woman @work @worldphotographyday @wow @wowparlour @vishubeautyparlour.com @YouTuber @zo_wed
beauty parlour near me,bc road beauty parlour , beauty parlour in bc road parlour near me,Best parlour, top parlour, good parlour, cheap parlour, good service, ladies beauty parlour,Vishu, Ladies, Bueaty, parlour, Vishu Ladies Bueaty parlour, Vishu Beauty parlour, Beauty parlour, Haircut styles, Beauty tips, Beauty salon beauty parlour, Hair stylist, Hair care, Hairdresser, Hair salon, Hairdressing, Hair colors, Women hair cut, Bridal makeup, Bridal hair,Beauty parlour in mangalore,Beauty parlour in Bantwal,Beauty parlour in B.C Road,Beauty parlour in B C Road,parlour in B C Road,parlour in bantwal,3dmakeup,9663910869 ,Nail Art, Mehndi,Nail Design,Mehndi design, Indian, Arabic,