Change your Preffered Language
Back to Blog List
---
Top Nail Art
Get ready to liven things up this season because a lot of the runway looks didn't follow the "typical" spring nail trends. There were plenty of rhinestone accents, colorful French manicures, and pointed black tips—don't worry, there were also plenty of florals. Take a peek through our round-up of spring nail trends if you want to try something new or stick with pastel nail colors and floral motifs since there's something for everyone. We've also recommended some great professional selection of products to help you get that perfect nail appearance at home as a lovely little extra. Now it's time to start scrolling, shopping, and taking screenshots.
Ahead, there is the best Spring nail art designs for you.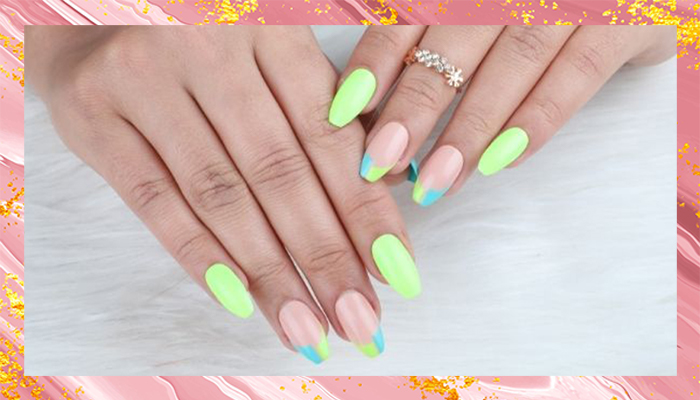 Colorful French Nail Art with Free Hand Nail Art
The wonderful thing about the multicolored Frenchie trend for Spring 2022 is that the brighter the color, the cooler the look. Usually in French Manicure the color is only applied to the tip, it's ideal for folks who don't generally go for colorful nails. But this vibrant color combination is ideal for recreating the runway look. It's merely a different degree of nail art. Our environment's spring season colors are perfectly matched. Grab the best French Manicure Kit from The Nail Shop.
Free Hand with Aqua Ink Effect
The Aqua Ink Nail Art with the technique of Freehand designing is just like the daydreaming doodles you've scribbled on the margins of your notebook page might really serve as inspiration for your at-home manicure. To make your nail game stand out, use high-pigmented aqua nail colors for the design to ensure it pops" and paint the beautiful leaf design on each nail with a fine-tipped brush. The Nail Shop offers the best Aqua Nail Art Kit.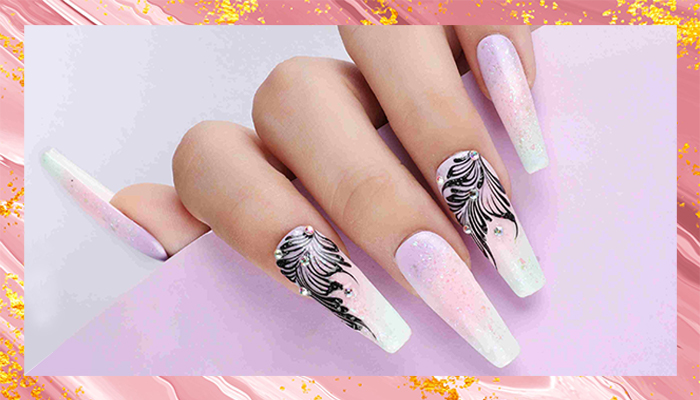 Free Hand with Emboss Gel Nail Art
Emboss Gel Nail Art is another modest but gorgeous nail art trend for this spring season. For anyone remaining at home or in a nail spa or salon, a nail manicure done with this highly coloured gel would be a fuss-free experience. If you're seeking some nail inspiration to go with your spring season style, emboss gel with free hand nail art is guaranteed to meet your needs. At The Nail Shop, you can get the greatest professional nail products and give your nails the love they deserve.
Blossom Gel Nail Art
Look no farther than these delicate space blossoms if you want to add a splash of color to your nails without fully painting them. Choose this pinkish color on the base instead of a plain neutral and layer Blossom on each nail to obtain those beautiful blooms. GLAM Blossom Gel is made with a soak-off composition that lasts for a long time on your nails. Best of all, they don't have to match—select a few of your favorite floral patterns and appreciate how they complement one another.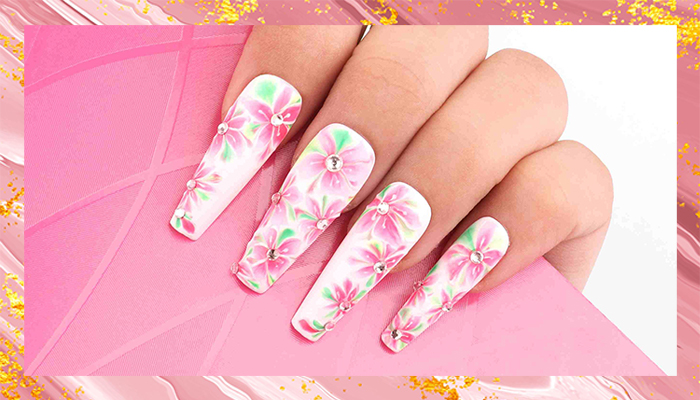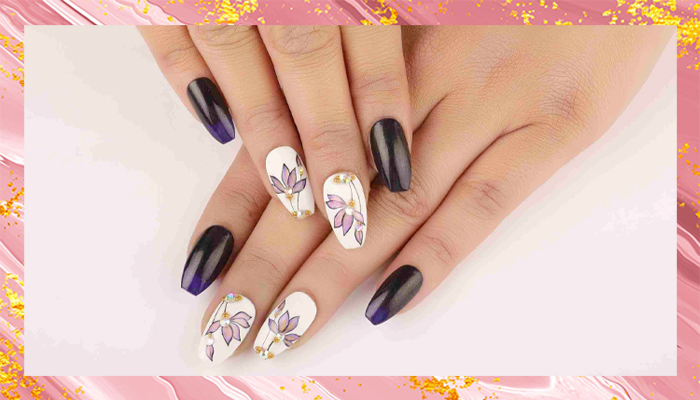 Free Hand Nail Design
Stems are technically part of the flower family, so if you're a plant mom or just appreciate the look of simple green sprigs, this black and white mani with colorful stem and leaf design on white nail is for you. Use a painting gel to create a quick blue and pink stem design after your base coat of color, and don't forget to top coat the mani. This nail art design combines ultra-fine lines with bright splashes of color to create a striking nail style that's sure to catch attention.
Free hand Nail art with Black French floral design
This complicated nail art design necessitates a great deal of care and attention to detail, but the ultimate result is well worth it! The most unusual and unique color combination is Nude with Black. With the addition of florals and swarovski stones, this is a unique take on French nail art. In this design, you can add as much or as little detail as you desire. Another lovely idea for a floral-themed nail art that includes leaf and flower embellishments on french style nails.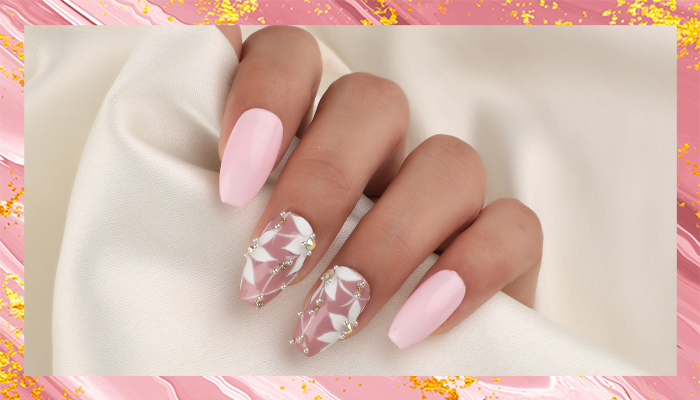 Pink Free Hand Nail Art
Nothing stands out more than a manicure design done with a bold and vibrant pink nail color! The white floral appearance is replicated in this floral nail art design. With Glam White Painting Gel, you may make patterns on entire nails or only one side of them; we think it looks more stylish this way, especially with the addition of some little radiant stones! When you look closely, you'll notice that this little floral bouquet is really a collection of well-placed blossoms.
---